Cat Island, Bahamas is definitely an "outer island." This slender, 50 mile long island is located 130 miles east of Nassau. Cat is made up of small farms, fishing villages, and a lots of undeveloped land.
Cat's isolation makes for a perfect destination for anyone searching for seclusion and natural beauty. Honeymooners spend their first married days in the isolation of this beautiful island.

When you visit Cat Island, make sure to visit; the "private" beaches, the Hermitage atop Mount Alvernia, the 8 mile stretch of pink sand beaches and the historic plantations (now abandoned) that dot the landscape.

Cat Island is known as the birthplace of Sidney Poitier and home of the Cat Island Rake & Scrape Musical Festival (June).

The "event" on Cat Island, Bahamas is the Annual Cat Island Regatta (August).

Check out Island HoppInn and get ready for a classic, Out Island good time on Cat Island, Bahamas.

Cat Island has three main destinaons: New Bight, Arthurs Town and Hawks Nest.

SEARCH THE WEB WITH YAHOO OR GOOGLE!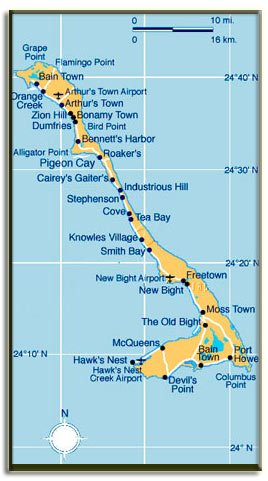 ACCOMMODATIONS:
Bridge Inn - New Bight, Cat Island
The Bridge Inn provides a secluded, warm and friendly atmosphere, and is a perfect setting for a nature-lover's vacation. Its unique architecture, featuring interior and exterior walls patterned from local limestone rock, and a landscape dotted with conch shells, palm trees and native flowering plants, pays a compliment to the surrounding environment. This theme is also reflected in the native straw items, flowers and shells decorating the rooms and public areas.
Manager: Daniel Russell
New Bight, Cat Island
The Bahamas
Phone: 242-342-3013/4, 866-365-8980
Fax: 242-342-3041

Fernandez Bay Village
Fernandez Bay Village is a charming resort village located on the quiet island of Cat. Family owned and operated for over 20 years, this remote and rustic hideaway has 6 beach front villas and 9 beachfront cottages. Come explore, play, relax, read, renew and refresh yourself. Swim, snorkel, fish or visit local settlements. Take a break from hurried schedules to walk on the beach. Revel in the joy of no stress, no phones, no television, (no shoes?)!? We invite you in for a look at what we have to offer.

Greenwood Beach Resort
Find yourself and lose your heart at the Greenwood Beach Resort. The unique hotel between the turquoise Bahamian sea and eight miles of unspoiled Sand Beach.

Pigeon Cay Beach Club
An 8 mile wide bay with 3 miles of white, powdery sand beach, 7 airy cottages, a couple of hammocks, birds singing and the sound of the sea lapping against the beach...

Sammy T's Beach Resort
We are a resort on the idyllic island of Cat Island in The Bahamas. Our island is renowned for its totally tranquil atmosphere, its lush natural vegetation and miles of untouched spectacular beaches. Culturally we are the birthplace for many of the really unique aspects of Bahamian life. Add our intimate resort and our attention to your smallest comforts and you have all the ingredients for the vacation you desire. Please take a look around our website and "awaken your soul..."
Hawks Nest Resort
With a 4-star rating, Hawk's Nest Resort & Marina is a tropical beachfront paradise on the southern tip of Cat Island. Take a bit of history, add newly remodeled deluxe accommodations, fine dining, a pub, marina, PADI dive center, activities and a private airstrip, mix with young, energetic staff who strive to give personalized service, and you've got the makings of a spectacular holiday.

Cookie Cabanas
If you're looking for seclusion, crystal clear water, white sandy beaches, with no lack of amenities, you have found it. The COOKIE CABANAS™ will afford you your own private villa right on the beach. Meals at the Cookie House are just steps away or enjoy exotic dining from our boat dock while watching local fish in a coral head. Lobster, Conch, and fresh fish are nightly specials. Check our Honeymoon Special (Call for details).